Trends in Interactive Technologies - Autumn 2023

DE630, Autumn 2023
Course Instructor: Jayesh Pillai


DESIGN + AI
The primary objective was to understand the implications of AI in the context of Design; primarily Interaction Design. The course explored the evolution of AI in general and how one can imagine it connecting with the domain of design. Open discussions were conducted on topics ranging from the relevance of AI in design to the ethical concerns of the use of AI in design. Various AI tools connected to design were explored during the course to understand their current capabilities and limitations better.
Course Srtucture
AI and its Relevance in Design
  • Overview of AI and its applications in various domains
  • Role of AI in Design
  • Talk: Nidhin Joseph [Ideating using AI]
AI in the Creative Process
  • AI powered ideation and case studies
  • Talk: Harshit Agrawal [AI and Art]
AI in Arts and Content Creation
  • Understanding AI-generated art and visual content
  • Talk: Rayaan Sheik [Animation Design and AI]
AI in User Experience and Interaction Design
  • AI driven UI design and UX recommendations
  • Talk: Akshay Kore [Designing Human-Centric AI Experiences]
The Future of AI in Design and Designers' Role
  • The evolving role of designers
  • Ethical concerns and challenges
  • Reflection and feedback
---
PART-1
PROJECTS
AIronicals - AI Generated Podcast
Hayat Tamboli & Yash Karanjavkar
+ Open AI Finetuned Model + Eleven Labs + Chat GPT + transcript.lol + Brandmark.io + Soundraw.io + RunwayML
This project aims to generate podcasts utilizing artificial intelligence & create engaging and informative dialogues between two virtual characters inspired by real-life individuals. The podcast will focus on user-requested topic, fostering a personalized and interactive listening experience. The virtual characters, Hayat and Yash, mirror the personalities and interests of their real-life counterparts, even their voice also imitates them.
---
A Fusion of AI and Human Creativity in Entrepreneurship
Ankita Thakur & Nachiket Nanoty
+ ChatGPT 4.0
To explore whether AI can effectively assist an 18-year-old with no prior business experience in setting up a startup from scratch. The goal was to create a unique blend of apparel that resonated with the rich tapestry of Indian mythology and appealed to a modern audience. ChatGPT, played the role of a strategic advisor and creative consultant, leveraging AI tools like DALL·E for visual asset creation, Uizard for interface design, and Canva for crafting marketing materials. This collaboration was designed to harness the power of AI while being steered by human creativity and business acumen.
---
Minds in Machines - AI Generated Webcomics
Khushboo Kumari & Evana
+ Midjourney + RunwayML + Framer AI + Crystal + 16personalities + ChatGPT
This project seeks to merge the realms of AI technology and creative expression, resulting in a dynamic webcomic series that not only entertains but also challenges perceptions about the intersection of AI, human behavior, and storytelling.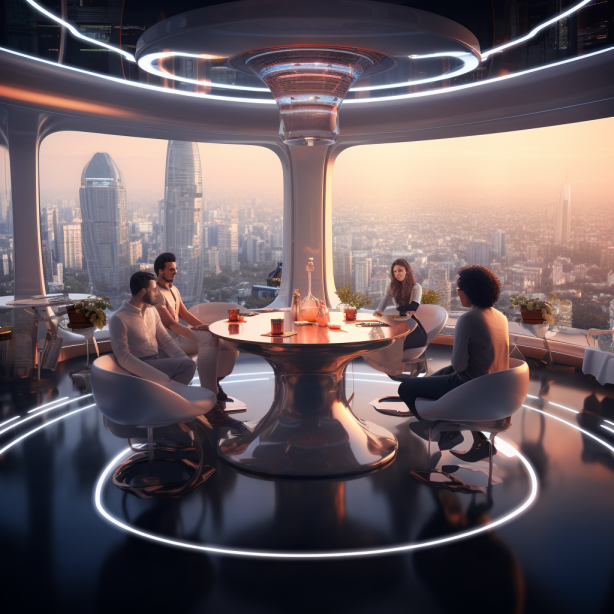 ---
AI in the Industrial Design Process
Anumeha Patoria & Nitya Vyas
+ AI tools
This project aims to unravel the symbiotic relationship between a 'Human Designer' and AI within the realm of industrial design. The project spans over a period of two weeks, and looks at the involvement and contributions of AI throughout the design process.
Our focus lies on the integration of AI at different stages of the process, from ideation to finalization. By exploring diverse AI tools, we aim to assess their impact qualitatively on discussed parameters.
This research can influence future design methodologies, offering insights for designers, practitioners, and researchers to optimize AI integration in the industrial design process.
---
Mimesis - Genrative artworks with chatGPT
Yashwant Rawat
+ Sol + Vera + ChatGPT
Mimesis is a project that explores the creation of generative artworks using Chat-GPT. With the power of artificial intelligence, the goal was to recreate/mimic and then maybe later build upon the works of Masters of generative art. Mimesis seeks to stretch the boundaries of creativity and explore the intersection between human articulation and machine intelligence.
---
Ai-ded Quest
Pawan Kumar & Sidharth
+ Chatgpt + Keentools Facebuilder + HyperHuman Chat avatar + Metahuman + Convai
Welcome to "Ai-ded Quest," a short bit from a video game set in a dystopian India. Artificial intelligence played a crucial role in various aspects of the project's development. Indian mythology and history serve as inspiration for the AI-generated backstory, which provides the player with a fascinating narrative. AI-assisted modelling techniques were used for developing the Non Playable Character's design in the game. The NPC is an AI-powered character that uses machine learning to dynamically adapt the dialogue to the player's plans, creating a more unique experience. "Ai-ded Quest" enhances the game experience with its notable visuals, powered by the Unreal Engine. Take part in a mission where the past and future converge, meet the all-knowing Manojavaya, and explore the echoes that will determine the fate of a post-apocalyptic India.
---
Quoted Canvas
Saikat Biswas & Tanmay Kuwalekar
+ ChatGPT 4.0 with plugins
Quoted Canvas is a GPT wrap that creates unique 1920x1080 wallpapers, each with an insightful quote in clear, legible English. Adhering to strict guidelines, these wallpapers feature quotes from a variety of themes and are designed in diverse art styles like Abstract Expressionism, Art Deco, and Art Nouveau. The process is efficient, tailoring wallpapers to specific inputs such as quotes, names, and art styles. Each piece includes the quote, author's name, and source, focusing on non-human elements for design. Quoted Canvas also uses book lines for quotes and continuously trains on font documents for precision in text generation.
---
Love in the time of AI with EternaLink
Zoha Hamid & Namit Tirkey
+ ChatGPT + NolanAI + PikaLabs + LeonardoAI + Midjourney
We started with the idea of creating a graphic novel/zine. Through explorations of various AI tools and ideas, we refined our initial brief. We realized how "interactivity" should play a larger role in our project. Thus we decided to attempt creating an "interactive" video zine. The concept was to navigate through a video as we go through a zine/comic, except here when you go through the story, as a user you are involved in the choice-making process.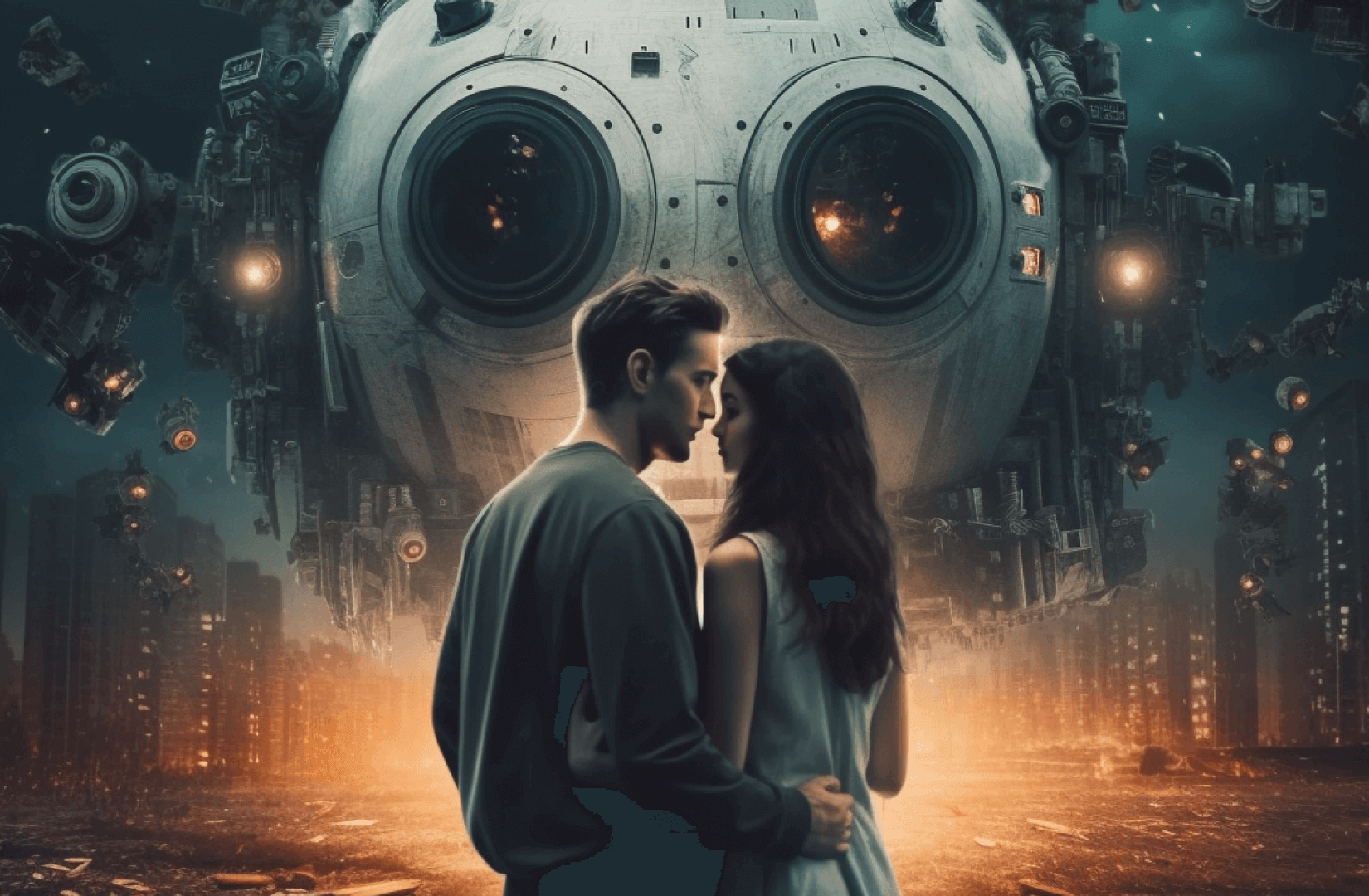 ---
Exploring Deepfake
Prajwal Kulkarni
+ roop
Given my active engagement on social media, I've come across numerous memes featuring figures like Modiji and Ronaldo singing or dancing. These amusing creations piqued my interest and led me to discover the world of Deepfake. Intrigued by the potential for fun and creativity, I've decided to delve into this new technology and document my exploration. This journey won't end here I plan to provide regular updates on a dedicated Notion page whenever I stumble upon something interesting.
---
PART-2
AI TOOLS EXPLORED
Here we present …
---
PART-3
REFLECTIONS
Here we present our ideas about current AI trends, learnings on AI tools, advantages and possibilities of AI, challenges designers may face connected to AI, potential limitations of AI, as well as ethical and other concerns.
---
AI in Design: Unveiling the Gray Areas of Creativity and Responsibility
  Zoha Hamid  
"When I started the first semester, my knowledge related to AI in design was very limited. I knew of AI through memes on Instagram which were floating around - how AI would usurp the jobs of designers and illustrators, how it will replace the taskforce and so on. Coming from a CS background and having worked in AI+ML, I am very familiar with models, blackboxes, training datasets and the understanding of how LLMs operate. I always knew that NLP and ML research is advancing at behemoth speed and what I was studying and working on in undergrad was just the very beginning.

My understanding of the implications of AI on HCD and Design significantly improved with the TIIT course. This course was my window into the other side of the screen, beyond the abstractions of black boxes in code. Through the very first talk itself which was given by Nidhin Joseph, I started to learn more and more about how AI is being used in design. The nuances, the wow factors, the process, I got to know it all. I got curiouser and would browse YouTube and follow various "AI creators" online to learn more about how to use the tools and what exactly is the future of AI in the industry I had now chosen to work in. Additionally I learnt about parametric design via my peers, something I had 0 knowledge about. I found it quite cool and have recently started experimenting with psj5 and creative coding techniques.

What intrigues me about AI is how it is perceived - the "human" aspect of it.The talk by Akshay Kore about the "The evolving role of designers (w.r.t. emerging AI technologies)" was significant in this aspect. I ended up questioning a lot of things about my thought process + design methodology viz-a-viz AI after it.

All in all, the variety of debates, opinions and discussions we had in class made me more aware of the different ways different humans perceive AI, in fact any new phenomena for that matter. As a designer, it is even more important for us to understand how one thing can have a butterfly effect - to realize the amount of interconnectedness and overlaps which exist in our designs and creations. If we do not realize these multitudes - ethical considerations, human factors, privacy, accessibility(… the list goes on), we will surely fail as a designer. Our job is to think of the bigger picture and see how what we create is part of a bigger + holistic system. And herein lies our biggest responsibility!

Thus lie the negatives in AI:
It is very easy to become complacent and not realize the bigger picture - we need a comprehensive set of laws in place which govern the limits and insurgence of AI in our lives. The biggest flaw with AI is compounding of biases - for which we now need better + informed training of data. There is a huge gap between context + the rooted history of your problem space/idea and what you can feed into AI. As a result, you might obtain lackluster, shallow solutions.

Certainly, AI can never replace human intelligence or creativity, it can simply imitate it. And the imitation itself is twice removed - hence, critical thinking and creativity still remain top skills to hone and not lose by overusing AI today as designers. We can definitely use AI as a second brain and reduce our cognitive load. Certainly there are a lot of tasks which are now easily automated and free up our time + mental space. We can use that space to create, or simply exist.

Is AI making humans more human?
The questions and the implications are wild, to be very honest. I am still in a neutral space w.r.t. AI, sitting on the fence between the fancy world of heroic AI and treacherous terrains of an evil AI. It is never black or white, well, AI is gray for me. The bottomline then is, I, as a designer, need to constantly upgrade and reinvent myself, and the question of how to do this? is actually replaced by when and why should I be doing this in my design process."
---
Shifting Perspectives: Embracing the Nuances of AI in Product Creation
  Evana Sajan P.  
"In the beginning of this year, I used to have a perspective regarding AI that was extremely polarized . The fact that AI uses unregulated data that cannot be claimed to copyright and the huge employment displacement were issues that I felt concerned about. But after this course offered a platform to have more informed discussions of different aspects of AI, my opinions have definitely changed for the better. Moving a little closer to the middle.This I think, is my biggest takeaway from the class.

Creating a product from scratch with AI definitely made me take a deeper look into the areas where AI is your friend and where AI is your biggest problem. While AI can help you make a product in a shorter time, trying to make a product that fully does justice to your nuanced thinking is still a lost dream. I would say the project satisfaction is comparable even though what caused it may be different. The excitement of learning a new skill makes up for making a mediocre project while bringing the exact image in your mind to life even though it takes more time.

Time saving is the biggest positive for me at this point of time while using AI. Having said that, using AI can be a slippery slope where you outsource your thinking to AI and ultimately compromise on the quality. I feel this might be a recurring issue with the hustle culture where the product is prioritized versus the time.
Most of AI being unable to give the results we want, is due to the communication gap between what we think and what we write and what the AI understands. These layers are added to a communication that existed between our mind and our hand. These added layers coupled with other barriers like biases within the system models, within us, the language of the prompts etc all significantly slow down the process of achieving EXACTLY what we want.

This course however, has taught me that AI is something that works with us not for us, or something we work for. Giving this tool that respect instead of fear will let one truly use it to its full potential. This has given me much more confidence in how I can adapt and hone my skills in a way suited the best for me in the coming future. The same can be seen to be the story around the world even with Altman asking for regulations and the power struggles that followed. This is a good time to be part of these larger narratives as well rather than how AI was useful in a micro perspective. "
---
AI in Design: Balancing Innovation, Limitations, and Ethical Implications
  Anumeha Patoria  
"In the recent past, AI has become an important part of our lives, and the creative sector is not untouched by its influence. Integration of AI has definitely revolutionized design and design thinking but to believe that AI in design is taking over the design and designers is not necessarily true. It is a tool for the smart, and a threat for others. AI technology is now being used to create designs that are more personalized, efficient, and cost-effective. It has given designers the ability to automate repetitive tasks, analyse data, and create designs with high accuracy. It can become a design assistant to address the ever-evolving workplace demands.

One of the most notable advantages of AI in design is its ability to process huge amounts of available data with minimal scope of error and recommend design changes and ideation. This will help designers to focus on more complex design tasks and cherry pick the most apt solution for the users. AI can be useful for managing several variables at once and for dynamic customisation.

This is not to say that integration of AI in design does not come with its own set of limitations. One thing that AI clearly lacks is the understanding for the emotional nuance of designs. While lacking this moral consciousness, AI might read social biases as data, and generate results which may be offensive or not inclusive for a certain group of people. In that regard, it is also important to note that the data available to AI is limited and results tend to mirror and enhance the westernized view of design. For instance, in a country like India where the digital environment is not as sophisticated as the westernized countries, and the user data and design solutions adopted throughout the country are not digitally formulated in most instances, and are thus not available on the internet, AI would fail to acknowledge such design problems and solutions which are more regional, and will push for westernized standards of the same. It may result in perpetuating harmful biases, especially when the designers are not aware or do not address these issues. Moreover, the vast amount of data relied upon by AI systems to create personalized and targeted designs raises questions about the collection, storage, and use of personal information.

The continuous evolution and use of AI will change the roles of designers from curators to creators. Designers will become creators of the behavioural systems and parameters within which AI will operate. Therefore, AI is not the boss, it is a co-pilot, where the pilot is the human. Thus, the co-pilot shall have only as much control as allowed to them by the pilot. "
---
Reflecting on AI: Creative Workflow, Impact, and Ethical Considerations
  Tanmay Kuwalekar  
"The module on Trends in Design + AI significantly enhanced my comprehension of available AI tools and their impact on the creative industry and the workflow. Through this course I got a chance to introspect the massive change in the dynamics of the working style due to AI and achieving unattainable tasks in a limited time period. Engaging in debates and discussions within the class broadened my understanding by exposing me to diverse viewpoints.

I personally was not very into the AI tools available back in the start of the year and was using it for image generation which was further used to create moodboards or to present concepts. The course made me experiment more on the available tools, which exposed me to a wide range of AI tools making varied tasks possible as my classmates tried those tools and presented. It helped me explore the AI domain and even if I did not practically use it but gave me notion of its potential.The group discussion and debates made me reflect on myself and my work and question how AI as a tool will make my working process better or if it can completely replace it.It also helped in understanding the views of different individuals and how to look at things from different perspectives.

AI at this point of stage, is changing the working process in many fields and as it is advancing it will definitely speed up these processes. As a designer, with the current model of AI, I feel it is influencing the work a lot as I feel the machine is in more control of the output. Even though we fine craft the prompts mentioning every possible detail, it is the machine who has the brush and the canvas and it is painting its own imagination or understanding of the prompt. I feel this kind of makes us a little less connected with the output, as we get influenced by the AI output (reason being it is better what we had in mind, regardless of the style we had in our thought). The only fear is that it shouldn't limit our thinking or creativity. AI to be used to streamline our process but making sure we drive it and we are the decision maker. I believe for creative outcomes we will solely depend on human minds and AI can be used to assist it make it more executable by adding up to it, but yea the base concept/idea to be human generated as we have the tendency to feel certain things, to empathize and hence can come up with solutions that are factual and may work.

Because AI is so widely available and in demand, producing a desired output in a desired style is relatively easy. However, this can lead to situations where the artist or the artforms are not treated fairly. In today's times, since AI has added a new layer to this competitive world, one has to be original in terms of their concept/idea or any form of execution. There were points raised in the class discussions regarding the ethical concerns of AI tools and I strongly believe that any work of art be it painting, music, literature is that particular artists IP. The AI is a machine giving outputs as prompted, but the person behind the instructions should follow the ethical path.

In conclusion, I think that over the semester-long course, I thought a lot about who I am, how I operate, and how I might utilize AI to make my job easier. I also thought about how important it is to stay current with the trends in the sector we work in."
---
Designing Tomorrow: AI's Evolution, Impact, and Ethical Crossroads
  Ankita Thakur  
"AI is reshaping the way we do design work, and I'm pretty excited about it, holding a 80% positive view. It's this powerful tool that's transforming the future, taking the monotony out of our daily tasks. This allows us more time to focus on the creative and complex aspects of our projects. As AI continues to advance, I anticipate it will accelerate progress across various fields, leading to innovative developments. It's more than just a tool; it's a catalyst for change, enhancing our work approach. Also, Tools like Uizard have revolutionized the way I approach UI/UX design, enabling rapid prototyping with AI-assisted design suggestions. Canva's AI elements have simplified graphic creation, allowing for more efficient and creative designs. ChatGPT has been invaluable for generating content ideas and even code, streamlining the development process. Invideo's AI has transformed video production, making it more accessible and less time-consuming. Lastly, DALL-E has opened up new horizons in image generation, providing custom visuals that would otherwise take hours to create manually. Each of these tools has shown me just how transformative AI can be in enhancing productivity and creativity in my work.

There are several benefits to AI in our work. Firstly, it handles repetitive tasks, freeing us up for more creative endeavors. AI's ability to quickly process large amounts of data aids in speeding up research, benefiting sectors like healthcare and engineering. It also supports better decision-making by providing reliable data, and its ability to customize products enhances user satisfaction. Importantly, AI is paving the way for more inclusive technology, making it accessible to people with disabilities.

However, there are challenges and concerns. The automation of tasks by AI could lead to job displacement, highlighting the need for retraining. If AI is trained on biased data, it could perpetuate unfairness, raising ethical issues. Privacy is another concern, as AI often handles sensitive personal data. Over-reliance on AI might erode our critical thinking skills. Lastly, AI poses significant ethical questions, such as its application in weaponry or the loss of human elements in certain jobs."
---
My reflections through my AI avatar
  Prajwal Kulkarni  
"I really enjoy AI because it's one of the best things that happened to us. Normally, I'm not a fan of technology because there are so many options and it can be overwhelming to figure out how to use them all.

But with AI, it's different. Most of the work is done automatically, and you don't need to put in much effort to get things done. The benefits of AI are huge.

Let's take a example of this Avatar itself, my English is not that good also I don't talk this fluently in real life but this Avatar is acing it, I can leverage this Avatar abilities very easily, but also as AI tools are easily accessible now-a-days, I might not work on skills which I lack, like improving my conversation skills, so AI does make us interpassive, that's one of my main concern along with ethical issues.

Now due to AI tools which makes most of the tasks easier it makes me technophilic. I'm very bullish on this technology and eagerly waiting for amazing things to happen in future. "
---
AI's Empathy Gap: Impact on Creativity and Human Connection
  Nitya Vyas  
"What is empathy? Where does empathy come from, and what role does it play in a designer's (or a human's) life? I believe at the moment, the biggest drawback of AI is it's lack of empathy. At the beginning of the Trends course, from the very first day, I have stood on the side of the Technophobes, believing that AI is changing the course of the world, and not for the better. Even though at the end of the course, I still feel I stand on that end, it's a more informed opinion. While I am less apprehensive about it's overall use, and more accepting of the capabilities - my fears majorly stand on the points discussed below, connected to the idea of empathy.

I believe that humans have immense creative abilities. We have produced wonderful outcomes - in art, design, theatre, literature, architecture, engineering and other domains. From the invention of the wheel, to the creation of the internet to the texts of Jane Austen and the landing of Chandrayaan, all of these have in some sense - been creative endeavors. These started from an idea, relied on individual and collective creativity - ideation - and eventually lead to outcomes impacting millions of lives. These creations were a by product of deep thought and effort, both of which should be nourished and nurtured, which is possible through practice and contemplation - both of which are taken away when AI is involved. When we delegate creative thinking to AI, we are not only limiting the results to history, but surrendering creative freedom and an opportunity to think. Even as AI acts as a supporting character in the journey of a designer's life instead of a decisions maker, the repeated use of those tools might eventually lead to an unhealthy reliance on them.

Down this dystopian road, we might have given up creative liberties, and with that, the ability to think deeply - which is heavily connected to the concept of empathy. From my perspective, empathy is a by product of deep thought and ability to understand someone else's feelings. Unless a person has developed contemplative thinking in some sense, they cannot develop empathy. This was about the possible depletion of empathy within people because of AI. Now, we can also examine how the outputs can display a lack of the same as well.

As more and more decision making and tasks are transferred to AI, their solutions would also end up lacking the same. Since at the end of the day, AI runs on trained data, which is not only biased but also lacks human emotions, as of now it cannot provide empathetic solutions. This lack of empathy and understanding is exhibited specially when dealing with very context sensitive problems such as trash in a city like mumbai - which needs not only a creative solution but an empathetic one as well. The way that a human designer would be able to step into the scenario and understand the problems, AI cannot. Even continuously feeding data (including negative prompts) would not give AI (as of now) the ability to evaluate multiple perspectives and demonstrate care and consideration. While it is true, that humans are not quite the flag bearers of empathy every time, to not acknowledge it altogether would be incorrect.

Having said this, I acknowledge the kind of time-saving that AI can help in achieving, and the number and kind of tasks it can assist human beings in. Through these weeks I've learnt a lot about the small ways to identify the use of AI through small things like glitches, repetitions, and other tiny giveaways.

As a tool and support, AI is crossing all boundaries and providing support in ways that have never been possible before, opening avenues and creating possibilities in multiple realms and domains - especially design.

My most important takeaway, however, was to understand how to try different tools - be open and evaluate concepts only AFTER they have been sufficiently explored. "
No AI was used (or harmed) in the writing of this essay

---
AI's Impact on Work and Ethics - Designing a Balanced Future
  Hayat Tamboli  
"It's true that AI is changing the way we work and increasing productivity in various ways and in different sectors. The process of integrating it into workflows has resulted in streamlined and efficient procedures. And this integration and intervention of AI is going to increase as it is human tendency to optimize the process and outsource all the laborious tasks in your work. Its now possible to imagine a time in the future when AI takes care of most jobs, leaving humans to concentrate on strategy and vision. This will help people get liberated from the menial and unnecessary tasks and this will enable anyone to build whatever they wish to make, making the barrier of entering a market super low. Which will result in the overflowing of the markets with thousands of indie products and the concept of markets and jobs will change.

Still, there are questions about how trustworthy AI-generated work can be. Although progress aims to achieve precision, total dependability may yet represent a future benchmark. Apart from this there are many issues regarding the usage of AI tools in our work such as the many facets to the issue of credit attribution in AI-generated work. It is a collaborative effort since each entity—AI, its developers, Algorithms, the data sources and the user/prompter/prompt engineer —contributes in different ways. Apart from this another issue arises about the ethical issues, which are quite important. As AI develops, ethical worries about algorithmic bias, data privacy, plagiarism, Lack of transparency, increased misinformation, and the effects of automated decision-making become more pressing. Not just developers, but all parties engaged in the development and use of AI have a need to guarantee that it is impartial and fair and set proper railguards and safety guidelines so that it is not misused.

It is a great time right now for governments and AI regulation bodies to discuss and form clear regulations and laws regarding AI and increase human safety keeping the AI creative enough to work within the specified structure.

Designers in particular have particular difficulties when integrating AI. It's critical to address any biases, preserve openness in AI-driven experiences, and strike a balance between AI capabilities and user-centric design. It's critical to keep an eye out for ethical issues and to keep working towards ethical AI design.

AI and design's near future depends on finding a balance between creativity and moral obligation. Together, we can improve AI's transparency, dependability, and fairness to create a world where ethical standards are upheld and AI-powered solutions fit in perfectly."
---
Balancing Potential and Responsibility - AI's Role in Design Regulation
  Yash Karanjavkar  
"With great potential, there should be some regulation for AI from initial point itself. With the debates and discussions carried in the class, I got to understand different mentalities and approaches towards AI. Class activities were fun as well. The digital content which we consumed made me more aware about the impact of AI in real world as well as the future. The development of AI is so rapid that I am little bit concerned about the regulatory part.

AI tools can automate repetitive tasks, speeding up the design process and allowing designers to focus on more complex and creative aspects. AI tools can streamline workflows, making collaboration more efficient and allowing teams to achieve better results in less time. AI-powered design tools can contribute to making designs more accessible by automatically generating alternative formats or suggesting improvements for better inclusivity. AI algorithms can analyze vast amounts of data to identify trends and patterns, providing us with inspiration and expanding the possibilities for creative exploration.

AI may rely on patterns from existing designs, potentially limiting the introduction of truly innovative and creative solutions. AI systems heavily depend on the quality and quantity of data they are trained on. Biases in the data can lead to biased design recommendations. The automation of certain design tasks by AI could lead to job displacement for designers, particularly in routine or repetitive tasks. Implementing AI in design may involve significant initial costs for training, infrastructure, and software, which could be a barrier for smaller design firms. "
---
AI's Mixed Bag: Design Teamwork, Biases, and Moral Questions
  Khushboo Kumari  
"As a person who had a relatively neutral perspective to AI before the course, after having done multiple discussions on AI with my peers and exploring multiple AI tools like ChatGPT, Midjourney, Runway, FramerAI and many more , during the course duration, my thoughts about AI lie somewhere in between, maybe leaning slightly towards the positive side. This course has not only helped me to develop a deeper understanding of using an AI tool in the design process but how AI impacts our society. I believe, while it has revolutionized the design process and is transforming the meaning of creativity, one cannot deny that it has quite some serious ethical and moral concerns. In the current scenario, AI reflects a plethora of biases and concentration of power within the society.

After making an entire product from scratch with AI, I see it as an extremely powerful collaborative tool, it does monotonous and laborious work and reduces the time required to develop a particular product. It allows one to generate multiple iterations of their design and choose the "closest" to their vision. I say closest as I believe AI is far from giving us "exactly" what we envision. While sometimes, the end product exceeds our expectations, other times we might struggle to get an output which is very basic. For instance, while creating images for webcomic, midjourney was able to create extremely good images for "Cityscape of AI dominated Mumbai 2070." while I struggled to get an image of "4 people sitting on a table". This I believe is due to the communication gap between each level i.e. the user's imagination, the written prompts, and AI's understanding of these prompts. In order to use an AI tool to its full potential, one must understand its algorithm and be able to outsource their thinking in the same algorithm. The images generated when prompted for "Indian characters", reflected the biases AI holds due to being trained by "Rich, Western" companies. It makes me think if the AI world is set for a future designed to fulfill the needs of one dominant community and their perspective of the current society.

While the course has pushed me to think about the question of ownership in the realm of generative art, it is something I am yet to make up my mind on. While working with AI on webcomic, there seemed to be a sense of disconnect with individual frames masked by an overall satisfaction of creating an entire product. Overall, I see AI as a collaborative tool, where we, the users, negotiate our thoughts in design process with it, to generate an output. "
---
AI's Evolution in Design: Embracing Advantages, Negotiating Biases, and Ethical Enigmas
  Sidharth Goutham  
"Over the past year and a half, AI has gained significant importance in various fields, particularly in design. It began with simple image generators and has since played a crucial role in enhancing the efficiency of design processes. The world has essentially split into two camps regarding the perspective on AI usage: those in support and those opposed. Personally, I find it challenging to take a firm stance as the concept itself is not straightforward. AI in design brings many benefits, such as generating new ideas, streamlining workflows, and enabling personalized designs.However, there are downsides. Over Reliance on AI risks diminishing the human touch and creativity in design. Ethical concerns arise, particularly in the potential biases present in training data, impacting the inclusivity of designs. Additionally, the implementation of advanced AI systems can be intricate and costly, limiting access for smaller designers.

Initially, using AI models for leisure and exploration lacked deep consideration of the implications. It was primarily viewed as a fun tool, making work easier. However, as the systems evolved, so did my perspective. Utilizing different tools for an entire project reinforced the belief that it's up to the designer how to wield the tool. Despite inherent biases and geopolitical implications, the user imparts value and meaning to the work done."
ChatGPT edited this
---
Balancing AI's Logic with Human Emotion and Cultural Significance
  Pawan Kumar  
"Understanding how to use AI in your design process is crucial because it can either enhance or undermine the outcome. Like any tool, AI has strengths and limitations. If not used thoughtfully, it might lead to results that don't align with your design goals or, worse, create a product that doesn't meet user needs.

Think of AI as a really smart assistant, but it has a few blind spots. It's fantastic with numbers and patterns, but when it comes to feelings, cultural vibes, and that special connection people have with things, it's not quite there.
Imagine you're designing a cool kitchen gadget in India. AI can tell you what's trendy, what features people generally like, and all that useful stuff. But here's the catch – it might not get why certain cooking methods or tools are a big deal in different regions. Like, it won't understand why your grandma's traditional ladle is more than just a spoon; it's a memory, a tradition, a piece of home.

Now, you, as the designer, know this. You know the stories, the emotions, the little things that make your design not just a thing but a part of someone's life. AI might miss those subtleties because it's not great at understanding the heart and soul of a culture. Also, AI tends to play it safe. It looks at what's already out there and sticks to the usual trends. But design is about pushing boundaries, being daring, and surprising people with something they didn't even know they wanted.

So, while AI is an awesome tool, you, with your human instincts, creativity, and deep cultural understanding, bring the magic to the design table. You're the one who ensures that your kitchen gadget isn't just efficient but also feels like it belongs in the heart of every home. It's that personal touch, the cultural spice, that AI can't quite cook up on its own. So, as a designer, embrace the tech but remember, the real design magic happens when you infuse it with your unique human touch."
---
Navigating AI's Current Landscape and Envisioning Its Future: My Perspectives and takeaways from this course
  Yashwant Rawat  
"Since the last four months of the course, my major takeaways revolve around - AI as it is today and what I think it can be, how it's perceived and used, and when/where one can apply it. I had dabbled a little in AI-augmented workflows before the course started and, as a result, had a single-track mind/opinion about AI. When I sat between 16 of my peers, I saw how different people use AI for different things, how they negotiated their use of the said "tool", and what they expected from it. Some, like me, saw it as a boon and were ready to give in to AI, while some were still at the fringes waiting for a personal singularity to jump in, Most of whom later joined us on the Technophilic side. While we spent time in class/assignments exploring various workflows with AI, it was the in-class debates that impacted me the most. I do spend a lot more time now questioning the "when/why" rather than "how" for my work at an individual level. While on a larger scale, I still believe that AI can be a great boon for us, but the road to "how" is still very rocky, and I wonder how I can contribute to it.

It's virtually unimaginable to sum up the possibilities with AI but a few that interest me as of now are - the opportunity to support/provide what we lack in numbers in all the necessary professions in fields like teaching and healthcare. This, I think, is the biggest and the most large-scale/scalable solution that AI can help with making the world a more equitable space. Apart from that on a personal and bite-sized level, I think AI can be a good "second brain" that takes away the cognitive load and the mundane/repetitive actions. It can be a workhorse to save time and effort and aid explorations.

One limitation I see of the current AI is the lack of channels for input. Most AI today is trapped/limited to a screen and can give answers/solutions/work based on previous knowledge databases on which it has been trained on. This makes it lack the ability to create or intake new or more nuanced experiences that might not be or can not be translated in word. This limits AI's power to provide richer answers/solutions/work. A challenge that then comes from this is that even if the avenues for input for an AI are increased and made in real-time, can its inputs be considered valid "experiences"/data to take/build solutions/work on them? Since most AI is built directly to serve human needs,but now their database itself might not be coming from lived human experiences."
---
AI in Reflection: From Fiction to Fact
  Saikat Biswas  
"AI has always been seen as something 'cool,' a perception I brought to class, first formed through cartoons and movies. In these stories, AI typically appears in one of two roles:
a helper handling monotonous, risky, or repetitive tasks, thereby freeing its creator for more "exciting pursuits", or
a malevolent entity bearing a grudge against humanity. We're aware of AI's potential pitfalls and have imagined that through various catastrophic scenarios. Yet, our fascination with being liberated from tedious tasks drives us to pursue the creation of a 'sentient' being at our service.
Today's AI, while not mirroring those fictional portrayals, is still impressive. For example, it can analyze data sets without needing code written by humans. It can even draft a basic website layout based on prompts, though personalization requires manual input. This assistance gives designers a head start, but the final touch is still human-driven. AI acts more like an assistant, offering us unexpected insights while leaving decision-making in our hands.

For designers, AI can streamline the ideation process and aid in visualizing concepts. However, as a sceptic, I question whether this replaces the emergent nature of art and creativity, which traditionally involves hands-on engagement and sensory interaction. Great art and design are personal and arise from individual struggles, which might be diluted without direct involvement. I thought spending more time with AI tools might compensate for this, but it turns out to be a more cognitive process, often recycling existing ideas. Moreover, regular reliance on AI might even lead to passivity, as people get used to delegating their thinking, potentially impacting their decision-making skills.

In the future, with further advancements, AI might become more intuitive and sensory, akin to its fictional counterparts. Perhaps then, AI will not only replicate but also enhance human thought processes and decision-making."
Edited by ChatGPT
---
AI: A Dual Edge of Promise and Concern
  Namit Snehal Tirkey  
"With my earlier experiences and practices with AI, I had a belief that AI, at least in a more consumer-level form is present in assistive devices and chatbots. Its use has been prominent in other areas as well but, a personal conscious exchange of interaction was through chatbots only. While working on assignments, and explorations of AI tools in this course, the process led to a lot of revelations about how AI today is present practically in more than half of the things we interact with around us, but most importantly and alarmingly how easily available it is to us.

Talking about the positives that I have learnt and experienced about AI first, I will get back to what concerns me about it. AI is available all the time. Where humans and other technology can work around the clock, it only works as long as we work with them. AI brings the capability of working and making decisions without the constant feedback of humans. With the example of health and activity trackers that I use, record and give health updates without my constant active participation. Adding to it, AI gives us greater accuracy and fewer errors. AI can absorb more information with more efficiency and can stick to set boundaries and rules. These attributes make it most likely better than humans regarding accuracy. While working on such documents, it helps me with articulation, and grammar errors and provides ideas on the go. AI also helps us in doing repetitive more often tedious tasks and unburdens us leading to more productivity and efficiency. Although I have never used one, an AI-powered vacuum cleaner is a good example of this.

Getting back to what concerns me, I feel the most concerning usage of AI would be how easily available consumer-level service it has become today. Although it has a plethora of good uses, I feel the downsides are much more harmful and worrying than the goods can ever compensate. With the use of AI, the misinformation today and the way it is reaching people's homes has seen new heights. In a place where people still largely depend on verbal methods for their information, where one common tv is present for an entire community of people, a person being morphed and being used to spread misinformation is devastating, costing actual lives. Apart from intentional misuse, it also happens via biases due to algorithms, rapid virality, deepfakes etc How the regulation of AI is done today should be our greatest concern. Along with this, lack of creativity and empathy are also major concerns about how AI is currently being used and perceived. Following on the positive point on repetitive tasks, it can also become a problem as people now face the issue of skill loss. When they need to practice this very repetitive task due to the unavailability of technology or when someone has to teach someone else, people themselves forget about these basic tasks, which often are building blocks of much more complicated skills. "
I used Grammarly to correct spelling mistakes, one of many skills that might become obsolete in the future
---
Nachiket's AI Reflections: Impact & Challenges in Creativity
  Nachiket Nanoty  
"AI can be a game-changer in the initial stages of design. It enables quick visualization of ideas, speeding up the creative process. This is particularly useful in today's fast-paced design world, where time is often a crucial factor. For example, AI tools can rapidly produce various design iterations, allowing for a wider exploration of creative ideas. In a course project which I was a part of, we explored at what extent AI can help a young student in starting a business, demonstrating its capacity to reduce barriers for novices in design and entrepreneurship.

Moreover, AI helps individuals to venture into areas beyond their expertise. For those not skilled in certain aspects of design like illustration, AI can be a valuable tool. This aspect broadens the horizon of what can be achieved in design, raising the overall standard of creativity.

However, integrating AI into design isn't without its challenges. A significant concern is the possibility of designers becoming overly reliant on AI, potentially diminishing their own creative skills. This over-reliance could lead to a lack of originality in design outputs, as AI-generated designs might start to look similar. Ethical issues also arise, particularly concerning the misuse of AI in creating misleading or harmful designs. Additionally, there are intellectual property questions around the originality of AI-assisted designs. AI's limitations in understanding human emotions and cultural contexts in design are noteworthy. While AI can create aesthetically pleasing designs, it struggles with complex, abstract tasks that require a deep understanding of human sentiment and cultural nuances.

Looking ahead, the role of AI in design is a mix of promising opportunities and cautionary tales. It's essential for designers to adapt to AI, using it as a tool to enhance creativity while maintaining ethical standards and originality.

In conclusion, AI's role in design is transformative, offering remarkable benefits while posing significant challenges. As we advance further into this AI-integrated era, it's crucial for designers to navigate this landscape thoughtfully, embracing AI's potential to enhance creativity, yet remaining vigilant of its limitations and ethical implications. "
Thoughts of Nachiket Nanoty, Articulated by ChatGPT
---